About Mike Fitz Designs
Welcome to the Mike Fitz Designs About Us page, who are we and what do we do?
Who are we? Well, we're a small family business based in Harpenden, Hertfordshire, who have been designing and making fine wooden collectible articles since 1976. Mike Fitz, pictured at the lathe below, has been working with wood all his working life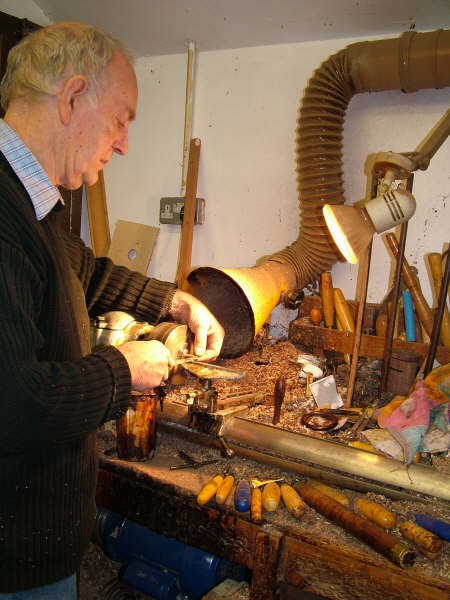 Turning the watchstand feet.
What about watch stands? First a little bit of history. Pocket Watch stands were first used in the eighteenth century when a mans watch was placed on a stand at night, near a candle, so that it could be seen.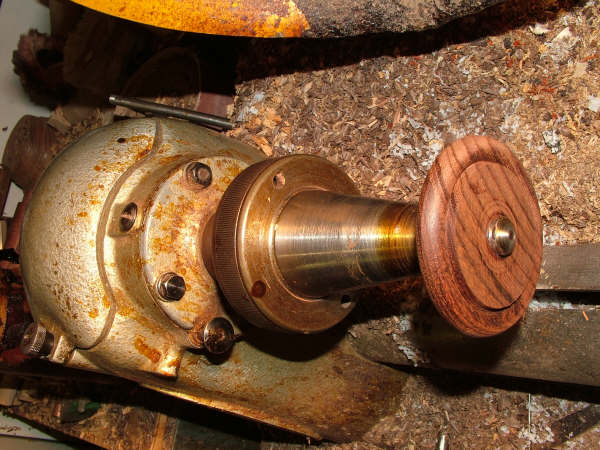 Headstock of the trusty lathe.
Later, different styles were adapted for use on the mantelpiece making more of a feature of the watch, the more ornate the watch, the more likely it would be shown on a fancy watchstand. Historically Pocket Watch stands have been made in many different materials such as porcelain, brass, silver, bronze and of course fine wood.
We have designed our watch stands to complement any watch, bringing to light that family heirloom.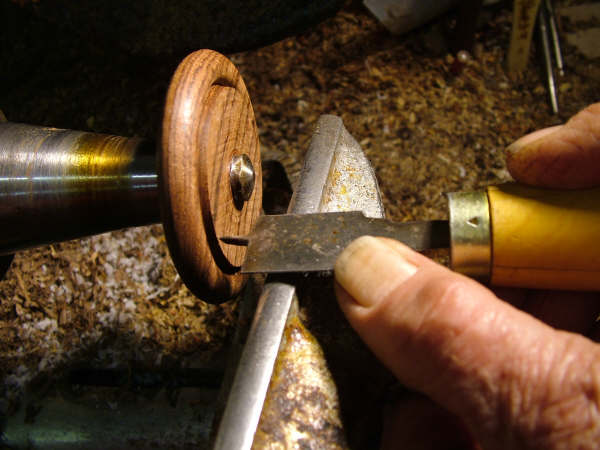 "Parting Off" - separating the ring from the blank.
All our watch stands are hand made by Mike Fitz and have a French polish and wax finish, no stain or lacquer is used. All our watchstands will darken with age which we feel, and we're sure you'll agree, enhances their beauty, and they will go on giving pleasure for many years to come. Mike's work has gained the reputation of being "Tomorrows Antiques" and over the years has been appreciated and collected by many connoisseurs from all over the world.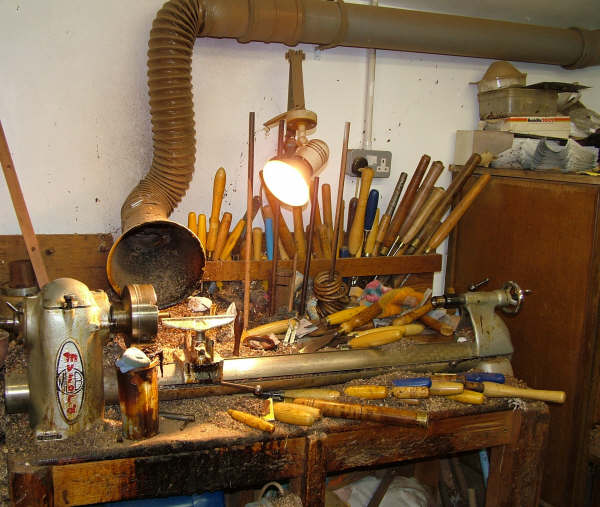 Now where did I put that tool?
Please note, watches and other items used to dress the watchstands are not included. All sizes are approximate. We use genuine natural wood therefore the colour may vary from stand to stand.
Mike Fitz Designs, Wooden Watchstand Manufacturers.
Address: 37 Meadway, Harpenden, Herts, AL5 1JN U.K.
URL: www.mikefitzdesigns.co.uk,
Enquiries, Tel. +44 (0)1582 762231
e-mail: info@mikefitzdesigns.co.uk
Web Site created by Nick Warren +44 (0)1582 461898 Last Updated 10/04/13
Photo Credits:
All product photographs were taken by Heather Fitz and are copyright Mike Fitz Designs.
All other photographs on this website were taken by and are copyright Stuart King. Click here to return to the top of the page.